LKUEA is a member of Latvian Forest Industry Federation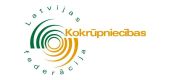 The main task of Latvian Forest Industry Federation (LKF) is to ensure representation of the interests of Latvian forest industry in international level, as well as the development and coordination of various, non governmental forest industry organisations. Latvian Forest Industry Federation is in favor of sustainable forest management and processing of wood that is grown and extracted under Latvian law regulations and good practice.
LKF seeks to promote the Latvian forest sector in collaboration with the relevant institutions, to build a sustainable, stable economic environment for forest enterprise development and increasing competitiveness.